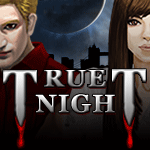 Welcome to the True Night Wiki
[
]
True Night is a social game for where players start off as a newly converted Vampire. Players must quickly learn how to survive in the Vampire World. Survival means creating their own clan of friends, collecting ancient Vampire Artifacts and learning to live in the human world by acquiring strength, skills and powers.
Content
[
]
Vampire types, Allies, Enemies, Bosses... All who cross your path.
A list of all ranks that you will earn as you progress through the game. Are you prepared for the next rank? Check them out here.
Your guide to everything Quests! Learn what you need to complete them, what a quest drops, and more.
For all your Collection needs.
Find out where items are obtained, their costs, stats and uses.
Learn all about why we Fight, Fighting basics and advanced strategies.
A list of all the honors available in game, past and present including their rewards.